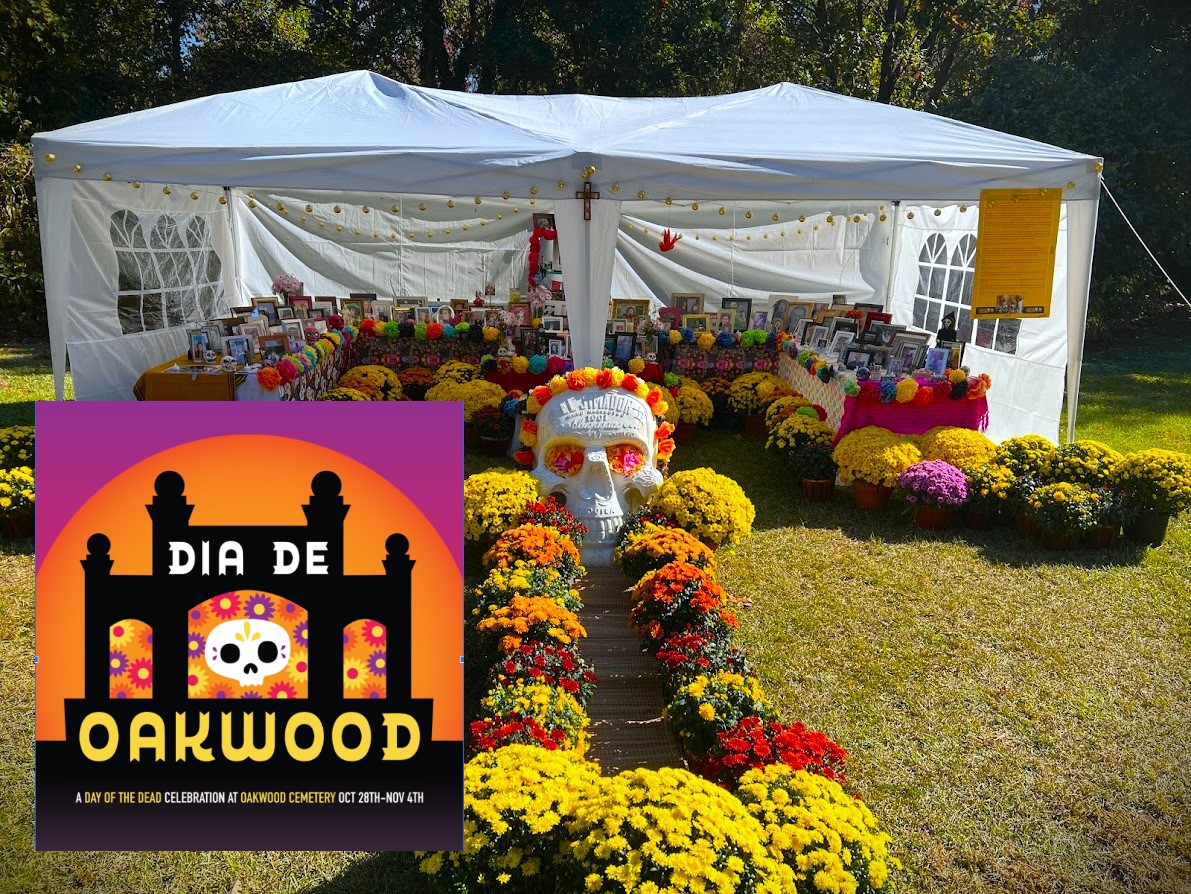 Dia de Muertos at Historic Oakwood cemetery
November 2 @ 4:00 pm

-

8:00 pm
Dia de Oakwood, was born as a collaboration between the organizers of the Day of the Dead 5k; Angela Salamanca, Natalia Campbell, the Oakwood Cemetery director, Robin Simonton, and Artist Peter Marin. The intention with this event is to create an installation piece that celebrates all the traditional aspects of the Day of the Dead holiday, as well as create a new space for kids and the community to contribute. This celebration will take place at the Historic Oakwood Cemetery over a few days, with several activities open to the public.
For Dia de Muertos there will be live music, food and drinks. We are inviting the entire community to bring an offering to the community ofrenda, tour and to participate in the installation.  Over the years many folks have contributed pictures, trinkets, letters and other items to the ofrenda. Every year we save as many of the offerings as possible and set them out again. Over the years, this collection has been at the center of the community's place to celebrate, grief and come together to remember our loved ones. 
Catrina Parade to close the evening
Activities for the whole family!
4:00-4:05 – Ceremonia de Copal, Copal ceremony
4:05-4:25 – Presentación Instrumental, Musical performance
4:30-4:40 – Palabras de Cierre, Closing words by Angela Salamanca, Natalia Campbell, Robin Simonton and Peter Marin
4:45-4:55 – Poesía, Poetry reading
5:00-5:25 – Baile Folclorico Vicky, Dance performance by Baile Folclorico Vicky
5:30-5:50 – Orgullo y Alma Latina, Dance performance by Orgullo y Alma Latina
6:00-6:30 – Desfile de Catrinas con Musica de Trio Títeres Huastecos, Catrina Parade with musical accompaniment of Trio Títeres Huastecos
6:30-7:00 – Trio Títeres Huastecos y Flor de Hidalgo, Musical and dance performance by Títeres Huastecos and Flor de Hidalgo
7:00-7:30 – Diana Denisse Harpista, Musical performance by harpist Diana Denisse
4:00-7:30 – Vendedores de Comida, Food vendors
4:30-7:30 – Pintura de caras de catrinas gratis, Free sugar skull painting for anyone
4:00-7:30 – Actividades artísticas y educativas de organizaciones asociadas, Partner activity and information booths
SE LE INVITA AL PÚBLICO DISFRAZARSE DE LA CATRINA Y UNIRSE AL DESFILE DE CATRINAS!
EVERYONE IS INVITED TO DRESS LIKE THE 'CATRINA' AND JOIN THE PARADE!
Share This Event: