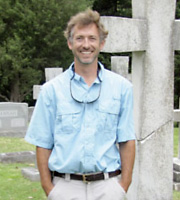 Sam Smith has been the Superintendent of Historic Oakwood Cemetery since January of 2012.
He grew up in North Carolina and graduated from Hale High School. Sam graduated from the College of Forestry and Natural Resources at North Carolina State University. He has always enjoyed working outdoors at golf courses and both residential and commercial landscaping. Sam is married to Heather Coleman and has a son, Sammy and a daughter, Cole. Sam and his family enjoy outdoor activities and attending NCSU sporting events and are members of Hayes Barton United Methodist Church.
Contact Sam via e-mail at sam@historicoakwood.com.